Why become a dental research participant?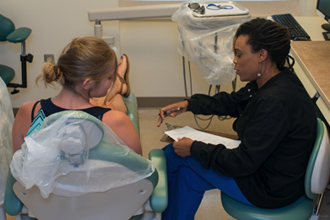 We often get asked the questions: Why should I become a dental research participant, and what does it mean?
Some of the benefits of being a GO Health research participant include:
Free dental screenings including recommendations to achieve and maintain oral health
Staff with specialized knowledge of oral/systemic health connections and treatments
Some treatments are provided free of charge as part of specific research studies
Additional needed treatments may be provided at a reduced rate
Some studies provide compensation for participation
Your participation helps advance our scientific understanding of oral/systemic disease connections which ultimately serves to improve overall health
When you become a research participant at the GO Health Center, you are a patient of record at the Adams School of Dentistry and are provided the same level of care, with the same standards, as all our clinics at the dental school. You can be referred between clinics at the dental school or to other physicians or dentists outside UNC should you need care we are not able provide.
All research projects at UNC are required to be reviewed and approved by an independent Institutional Review Board whose primary goal is to protect Human subjects. This provides the assurance that all of our studies are carefully scrutinized by many knowledgeable scientists, clinicians, and human subjects advocates to evaluate, minimize and explain in detail any risks associated with study participation.
Each study provides you with detailed information about the procedures performed, the number of visits, and time requirements associated with that study. These details are required reading during the informed consent process and are verbally explained in depth. When you become a study participant we can also assist with improving your oral health and any other dental needs you may have.